The story
Yannic and myself were walking home one warm summer night, realizing that it is really hard to find stuff in Timelord-technology-equipped handbags (you know, those bigger on the inside :D) especially when it is dark. We were simply discussing that it's sometimes difficult to find small things in one's handbag/backpack and decided to hack a solution to test – the Craftalight was born. Now, approximately half a year later we figured that Kickstarter's MAKE 100 was the perfect time to share that small solution with the world. We already gained some experience on Kicksarter with our first project the PGCSU.
Who's the Craftalight for?
You tell us ;) the "out-of-the-box experience" requires only basic sewing skills: you sew it (and the magnet) in your hand-bag and hook it to a power bank. Voilà, you're pretty much done. Enjoy your brightened-up accessories. For those with no sewing skills you can also use velcro to attach it to your bag.
But that's not it: we want you to be able to customize the Craftalight, which is why we will provide full sources (schematics, mechanical drawings, source code etc). Additionally we have broken out the unused pins to pads on the back side of the PCB. 
Finally, for easier mods that don't require software changes, we added a switched power pad to which you can simply attach any device you want. When the Craftalight switches on, you can draw as much as 500mA from that pad (at the voltage supplied by your power source).
How does the Craftalight work?
The Craftalight is based on a STM8 value-line microcontroller and a Hall-Effect sensor. The Hall-Effect sensor senses the presence of magnetic fields which enables it to detect the presence of a magnet.
This allows you to make the Craftalight switch on or off using a magnet on the lid of the purse or bag. To allow different setups you can configure whether the Craftalight should switch on in presence or absence of the magnet.
Furthermore to power the Craftalight, you can either use a USB power bank (thar most people already carry in thier bags) or provide 3.3 to 5.5V on two pads on the PCB directly.
Features
Hackable: open source hardware and firmware
Small and light: 70x20x6.5mm and ~10g
Available with white and black PCB solder mask
Adjustable brightness
Warm white LEDs (3200K) under a frosted acrylic diffusor window
Hall-Effect switch to detect when the purse is opened
High quality and low stress design components
EPDM rubber seal to prevent dust accumulating between the PCB and the acrylic diffusor
Sew-able using the holes in the PCB
Includes a strong, sew-able magnet
for you to tinker: most unused micro-controller pins broken out to soldering pads
NEW: power-bank "blip" function for improved compatibility!
What else can I do with it?
Off the top of our heads you could:
use it to light a drawer or a cabinet (stick the magnet to the front panel or door)
put it in your glove-box
add it to your suitcase
use it as a STM8 micro-controller breakout board with white LEDs, low power LDO and Hall-Effect sensor
and may other usecases, too. Just be creative!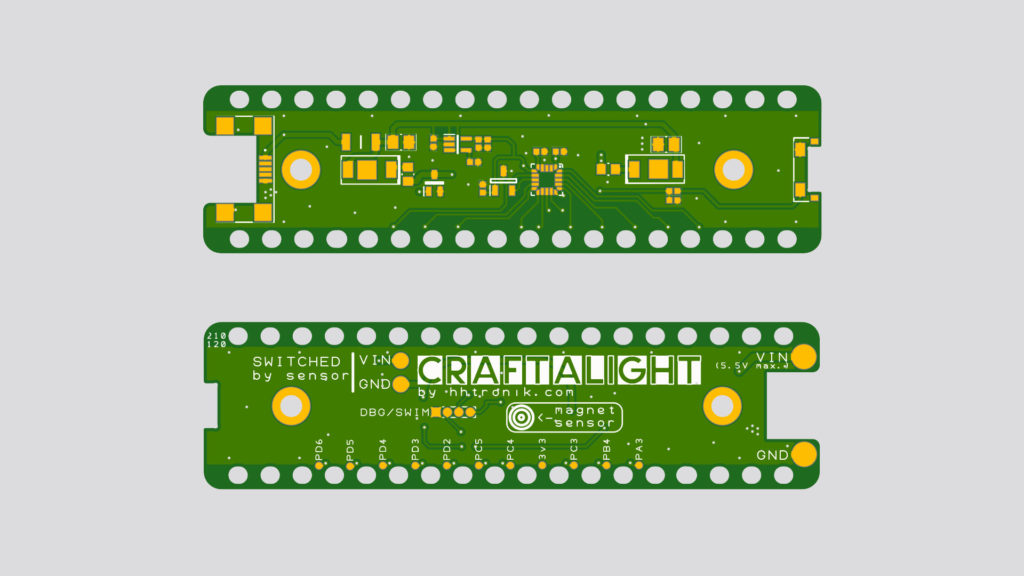 Let's talk about technology
The microcontroller and programming
The micro we use is an STM8S003 series controller. (because it's cheap, good, widely used and we know and like it)
We gave Visual Studio Code with the Platform.io plugin a shot. It worked rather well and its free, so this is what we will ship for. The compiler being SDCC (Small Device C Compiler) the programming language is SDCC-flavored C. We didn't use any fancy library, RTOS etc… because the application is rather simple.
As an substiute you could try SDuino, the SDCC integration for STM8 in the Arduino IDE. Alternatively – for a fully fledged debugging experience – you may want to try IAR's Embedded Workbench for STM8 (they offer a free version). Some code rework may me required when switching compilers.
Moreover, you'll need a SWIM-compatible programming adapter (for examples an ST-Link v2). If you don't own one yet, have a look at the rewards in the Kicksarter Campaign.

Lightning and power consumption
The LEDs are rated for 150mA at 3V. On the Craftalight we drive them with 110mA max. This ensures they don't heat up much which is beneficial to their life-time while they're still super bright. The LEDs are switched by a single N-Channel MOSFET which is driven by the micro-controller.
MOreover you can dim the LEDs by using PWM (at about 40kHz).
Full on the current consuption is at about 230mA and in the off state the Craftalight draws just around 60uA .
What about the magnet?
In addition, the magnet should not demagnetize / damage my credit card magnet strip, unless you hold the card directly on the magnet for a long period of time. This is because the credit cards (and most other magnet strip cards that are not meant to be re-written often) use high coercivity strips which require powerful magnetic fields to change. As long as your cards stay approx. 2cm / 1 inch away from the magnet they should be a safe.
Alltogether, in our opinion the Craftalight is a super cool gadget for your bags. Me personally I find it very usefull, epecially when I want to find the keys in my handbag. If it's useful or only a "nice to have " it's up to you to decide!